Fastag was established by the National Highway Authority of India to solve the problems caused by the toll system at toll booths in India. This system was first launched in 2014. Which is now being implemented across the country. With the help of this FASTag system, the people of the country will be able to get rid of the troubles of paying the toll fee at the toll booth and all the people can pay the toll fee very easily without stopping their vehicle at the toll booth.
What is Fastag and how does it work?
This is a type of chip that you need to install in your car. This chip is installed on the vehicle's front mirror. Radio frequency detection is built into this chip. When you install the FASTag chip in your vehicle, after that when your vehicle approaches the tollbooth, then the sensor installed on the tollbooth, once it comes into contact with the FASTag installed in your vehicle's windshield, it will be detected by your FASTag- Account debited, deducts the fee collected at the tollbooth and you can pay your toll fee without stopping the vehicle.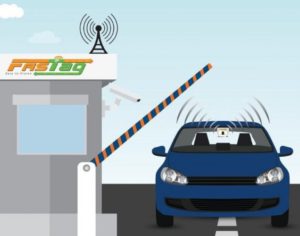 Purpose of FASTag
Let us inform you that to speed up the electronic collection of road tolls across the country, FASTags will soon be available on gas pumps, which will later be used to buy gas and pay for parking plaza Paying the toll can solve the problems of long vehicle queues and loose funds are eliminated. Everyone will save time with the help of this FASTag.
Save money with fastag
Individuals using this FASTag in 2016-17 will also receive 10% cashback on all toll tax payments and 7.5% cashback for those using it between 2017-2018 and 2018-2019. Between 5% cashback and 7.5% cashback between the years 2019-2020 will be available and this cashback will be transferred to your Fastag account within a week. Up to now this scheme has been implemented in only a few cities, but now it is becoming the whole country implemented.
Benefits of Fastag 2020
With the help of this Fastag installed in the vehicle, your time will also be saved and your fuel will be saved as well.
This Fastag system links complete information about you and your vehicle. You also benefit from cashback when you use Fastag.
This in-vehicle tag works when your prepaid account is activated.
The benefits of the Fastag system are granted to every citizen of the country.
The Fastag is only valid for 5 years, after which you have to install a new Fastag in your vehicle.
SMS setup
When a person crosses a toll booth with a vehicle equipped with the FASTag system, you will receive an SMS on your mobile phone once the fee has been debited from your FASTag account. This SMS tells you how much money has been debited from your Fastag account. Interested beneficiaries wishing to fit Fastag in their vehicle can purchase it from any official tag issuer such as all national banks and Paytm etc. and use all associated facilities.
The Fastag top-up takes place in these banks
The people of the country can open their fastag account by going to the toll booth and agency which is located in any point of sale and you can open your sticker and fastag account and you can use ICICI Bank, Punjab National Bank, HDFC Bank, Axis Bank and Paytm Open Bank, SBI Bank etc. You can fund your Fastag account by credit card, debit card, RTGS and Net Banking from anywhere You can fund your Fastag account with minimum Rs 100 and maximum Rs 100000 . National Bank of the Country Paytm has introduced FASTag to simplify the payment of tolls on all highways across the country.
Documents to take away from Fastag
In order to open a fastag account with the bank, you need to submit the following documents along with the form, after which your fastag account will be opened.
Aadhar card
pan card
Food card, voter card
Passport photo of the vehicle owner
Vehicle registration certificate
mobile number
Buy FASTag online
Interested beneficiaries of the country who want to buy Fastag online can buy Fastag online through the Paytm app for old vehicles, according to Paytm. Paytm users receive 7.5% cashback on each toll transaction. Because of this, people will benefit greatly. Leading India to progress through this online FASTag system. For more information about the program, you can visit the official website.