As we all know, Yes Bank Limited has been placed under moratorium by an order notified by the central government on March 5, 2020. Today in this article we are going to announce important details about the RBI Resolution Draft or better known as the Yes Bank Reconstruction Plan to develop the old premises of the bank and then return it to its old position. In this today's article we are also going to share important details that are important to know if you have your money under Yes Bank Limited safe deposit box. We are going to share every single detail that is announced by the Reserve Bank of India for the country's general public that regularly uses Yes Bank's services. We have included every single clause announced by the Reserve Bank of India on the subject of rebuilding Yes Bank.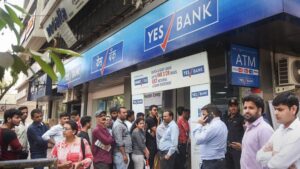 Yes Bank reconstruction program
yes bank ltd is a banking company incorporated under the Companies Act 1956 which has been engaged in banking business in India since its incorporation, but unfortunately the rapidly deteriorating financial position of Yes Bank Ltd. in terms of liquidity, capital, critical parameters and the lack of a credible capital injection plan, has forced the Reserve Bank of India to take immediate action in the public interest and in the interests of depositors in particular. The Reserve Bank has taken several measures to protect depositors' funds. Thus, during the moratorium period, the Reserve Bank of India drafted a plan to rebuild or merge Yes Bank.
Details Of RBI Draft Resolution Scheme
| | |
| --- | --- |
| Name | RBI Draft Resolution Scheme |
| Launched by | RBI |
| Beneficiaries | Public |
| Objective | Reconstruction to protect the public interest |
| Official Website | https://www.rbi.org.in/home.aspx |
Moratorium on the yes bank
Finally, after the epic demise of Yes Bank, the government imposed a moratorium on Yes Bank until April 3 for all customers of the bank. The moratorium clearly stated that under no circumstances can depositors withdraw more than 50000 rupees in a month. However, after the moratorium was announced, the RBI came up with the recovery plan in less than 24 hours to help all depositors.
Share capital of Yes Bank
In order to help Yes Bank regain its position, RBI has taken the following measures to reconstruct Yes Bank's share capital:-
The authorized capital is changed to Rs. 50,00,000,000.
The number of shares will be changed to Rs. 24,000,000,00,000 2/- making it a total of Rs. 48,00,000,000.
Investor Bank invests in Yes Bank's equity to the extent that it holds 49% stake after infusion at a price of no less than Rs.10/- ie
Face value of Rs.2/-
Premium from Rs.8/-
The investor bank may not reduce its participation below 26% before the expiry of three years from the date of the capital contribution.
RBI authorities comment
The draft RBI resolution concept has now been finalized by the authorities concerned and is open for discussion and comments from the public, Bank Yes authorities and all shareholders and investors in the bank. Anyone has until March 9th to comment on the draft settlement scheme and leave their guesses, queries and any other communications related to the scheme.
Yes Bank employees in the RBI Draft Resolution Scheme
The Reserve Bank of India's draft resolution says all Yes bank staff will continue their offices on the normal days before the moratorium is imposed. Although a new board will be appointed by RBI or a new board will be appointed by Yes Bank authorities. Prashant Kumar, former Chief Financial Officer of SBI, will also be appointed administrator of Yes Bank. The Bank's offices and branches will continue to function in the same manner and in the same locations as before. The Bank may open new offices and branches, or close existing offices or branches, in accordance with Reserve Bank policy.